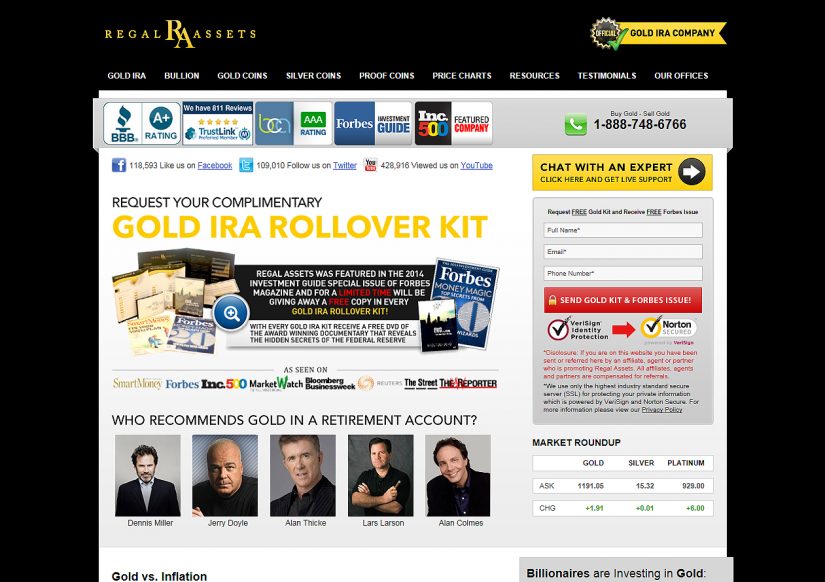 Regal Assets
About:
Regal Assets has a longstanding tradition of responsible and trustworthy business practices demonstrated by the A+ rating with the BBB and our 5 stars out of 5-star customer satisfaction rating with TrustLink. From buying and selling Gold Bullion and Rare Gold to giving advice on setting up a long term tax deferred retirement plan, commonly called a Gold IRA, you can be assured that Regal Assets always has the right investment for you. We pride ourselves on putting the client first and taking the time to educate new investors on the precious metals industry. With our rapid delivery guarantee, you can expect your order fully insured and in hand within a week from purchase. As your premiere precious metals firm, Regal Assets takes pride in aligning itself with exceptional customer service, security, grading, and knowledge.
Website:
Affiliate Page:
Location:
USA
Affiliate Network:
Fee:
Between $30 and $100 per verified lead (plus)
Percentage:
Between 1% and 3% of sale for life of client (plus) + earn up to 2% of sales above $30,000 of affiliates you introduce and 1% of sales above $30,000 of affiliates introduced by your affiliates.